I just love Urban Decay's eyeshadows and this palette is a knock out. They are all incredibly pigmented & soft. Here's swatches!

Left to Right:
Midnight Rodeo~ Metallic light taupe w/ glitter, it doesn't have terrible fall out & is actually easy to use
Midnight 15~ light metallic nude w/ microfine gltter, virtually zero fall out
Vanilla~ ivory w/ yellow gold pearlized sheen
Flow~ pale peach with white sheen
Chase~ light sunlit bronze, just as rich as Baked, but the base color is lighter, less yellow
Tainted~ medium thistle matte that developes a slight golden pearl when buffed. This color is crazy unique and awesome!
Junkshow~ hot pink w/ blue pearl. This color is fairly sheer but easily buildable. I love it!
Omen~ Medium lavender w/ blue pearl. This looks like the pressed version of Morphine 24/7 stick.
Evidence~ sooty black base with blue shimmer finish.
Deep End~ Incredibly rich teal w/ blue green shimmer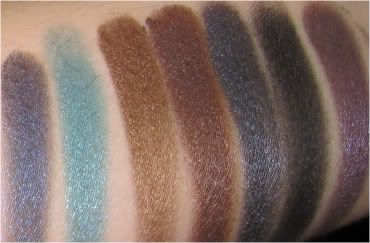 Left to Right:
Evidence
Deep End
Deeper~ Dark golden brown shimmer
M.I.A~ Deep bronze brown shimmer
Ace~ Charcoal metallic shimmer
Blackout~ Black matte, this one is a little stiff, but applies well
Half Truth~ gorgeous cool toned purple w/ silver metallic shimmer
I have a boatload of looks that I've been doing with this palette to post later this week :)