With China Glaze releasing their Tronica Collection this month I thought I would revisit one of the greatest holos ever, IMO. Hailing from the 2006 Kaleidoscope collection is Let's Do it in 3D, a smokey grey scattered holographic wonder. This manicure was also my first real attempt at Konad :)
Base:
China Glaze Let's Do it in 3D
Stamp:
Konad Special White w/ Konad M56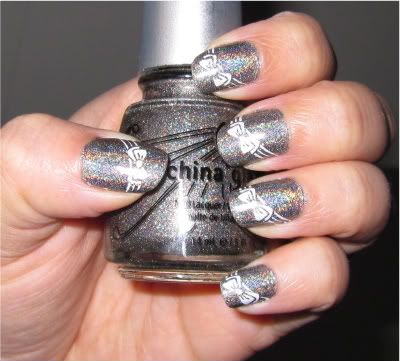 P.S. The full China Glaze Tronica Collection is making its way across the USA to me as we speak! Once I receive it I plan to do a full review with comparisons to Kaleidoscope, OMG, and other holo familiars from random brands.