Tarte will have a TSV on QVC Tuesday, March 15, 2011 called The 8th World Wonder 7pc Clay Collection. As a Q Insider I preorder & it came in the mail today. I am LOVING this kit! This is my first big Tarte Experience and I'm way jazzed about it. I previously only played in Tarte's Cheek Stains, Lip Stains & Bronzer (all of which I love). Every part of this collection is amazing. I am SO GLAD I signed up for Auto Delivery! Here's what you get:
Amazonian Clay Balancing Foundation SPF 15 choice of Fair, Light, Medium, Tan or Deep:
I purchased Fair, but it is too light for me. I normally wear Bare Escentuals foundation in Fair or Fairly Light, Philosophy Supernatural Hybrid in Sand, or Smashbox Halo in Light. The Tarte foundation in fair is a tad too ghostly for my complexion (my husband actually said "Your forehead looks pasty." LOL Thanks honey!), so I'll be swapping it out for Light or maybe mixing the two. Anyhow, I'm loving this foundation. It has a medium thick consistency but spreads out and blends very well. It doesn't feel heavy on the skin and has a very smooth velvety texture when dried down, which only takes a minute or less. I am
really
flakey right now and this foundation does cling to my dry spots, quite terribly at first, but after everything warmed up & melded (about 15 minutes) it didn't look so bad. My skin looked smoother, had good coverage (more so than I'm used to) but did not look cakey. I do not use a foundation primer. After 8 hours of wear, it still looks great and I do not have the normal shine/oiliness I get with all my other foundations, so I'm stoked about that! Can't wait to see how my skin reacts over extended use.
Foundation brush:
Huge fluffy super soft WINNER! I didn't use this to put my blush or foundation on. I think I will give it a go with my Tarte Park Ave Princess Bronzer. I hope we get one of these with every kit!
Lights, Camera, Lashes Volumizing Mascara in Black
: I'm a mascara fiend and this was my first experience with this formula. I like it! The brush gives fantastic volume and decent length, no major clumping and no flakes or smudges at the 8 hr mark. I probably wouldn't buy this at full price, but I'll totally take it as a perk in the big kit :)
Amazonian Clay12-Hour Wear Powder Blush in Glisten:
Holy Blush Batman! THIS IS IT!! This has to be the most pigmented, long wearing, creamiest powder blush EVER. A little bit goes a very long way. I tapped my BE Heavenly Blush brush on this and got loads of color, had to blow a bit off & it still laid down some serious color. Speaking of the color, it's gorgeous, very NARS Orgasm, a tad more coral than O. This probably leans pinker or peacher depending upon your coloring. It has a fine gold shimmer to it that looks pretty blingy at first but buffs down to a golden sheen or glow. Not glittery at all :) I loathe super shimmery or glitter blushes, but this one is that perfect amount of glow. At the 8 hr mark it looked like I had just applied it, no fading, no migrating all over my face. This is an absolute first for me & a blush. And YES IT IS WATERPROOF! When I went to wash it off it was still there after my initial wetdown, then it turned my Clarisonic brush coral LOL But it wasn't difficult to remove. The compact is pretty & I like that it's the same color as the blush. Makes it super easy to find in the drawer! It also has a mirror, which is nice. I will be purchasing this blush in several colors.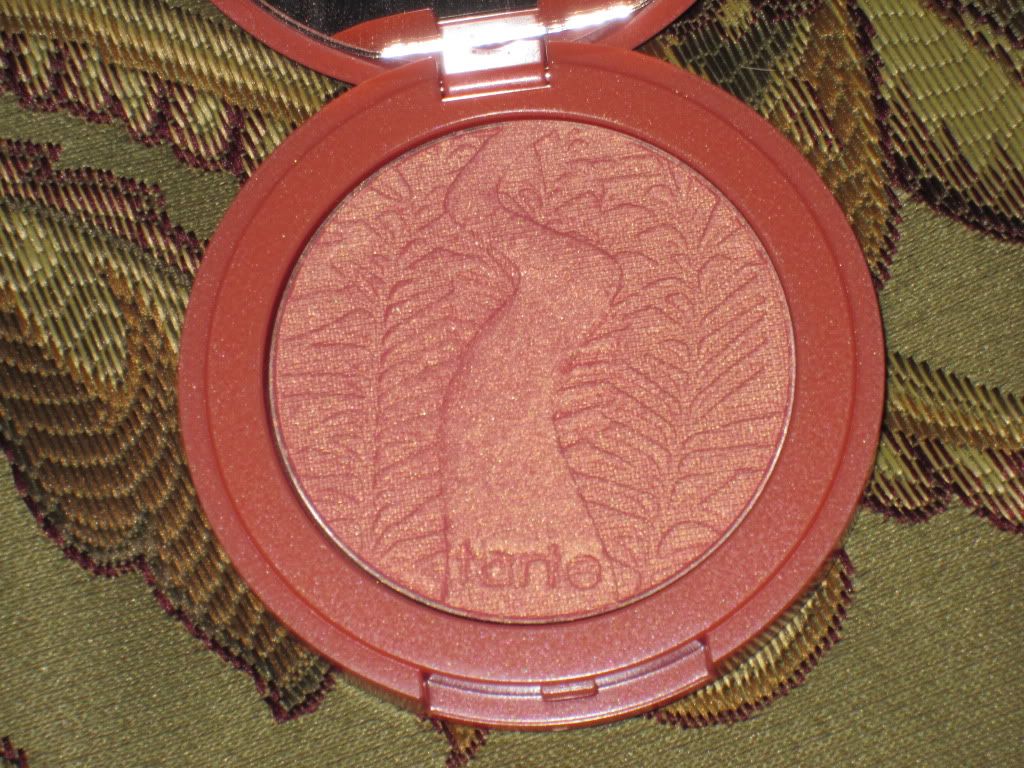 Amazonian Clay Long-Wear Eye Shadow Quad in shimmering dark brown, shimmering bronze, shimmering light sand & shimmering plum:
I cannot say GORGEOUS enough with this kit. These colors are simply stunning. They're all labeled shimmering which I feel is a bit misleading. These colors are far from matte, but they don't sparkle or glimmer or frost. They remind me quite a bit of Bare Escentuals old label of a Glimpse. They have a subtle shimmer/sheen/pearl, but nothing too much for older eyelids or folks who don't like to wear a lot of sparkle. The Light Sand shade is perfect for highlighting. It's not too light, chalky or frosty, and although pigmented, has a sheerness to it that lends it to not overhighlighting or drawing attention away from the main colors. Shimmering Bronze is a beautiful old gold shade. It reminded me of a toned down, less frosty Urban Decay Baked. Shimmering Dark Brown is just that, a medium dark brown that is very neutral, almost leaning cool in tone. Shimmering Plum is a medium dusty plum with a wink of blue shimmer in the pan but it doens't translate to the eye. This plum is warm and soft. All the shadows in this quad are highly pigmented, soft, & easy to blend. The case is bamboo with a beautiful leafy swirl design and magnetic closure. I'm looking forward to the future quads!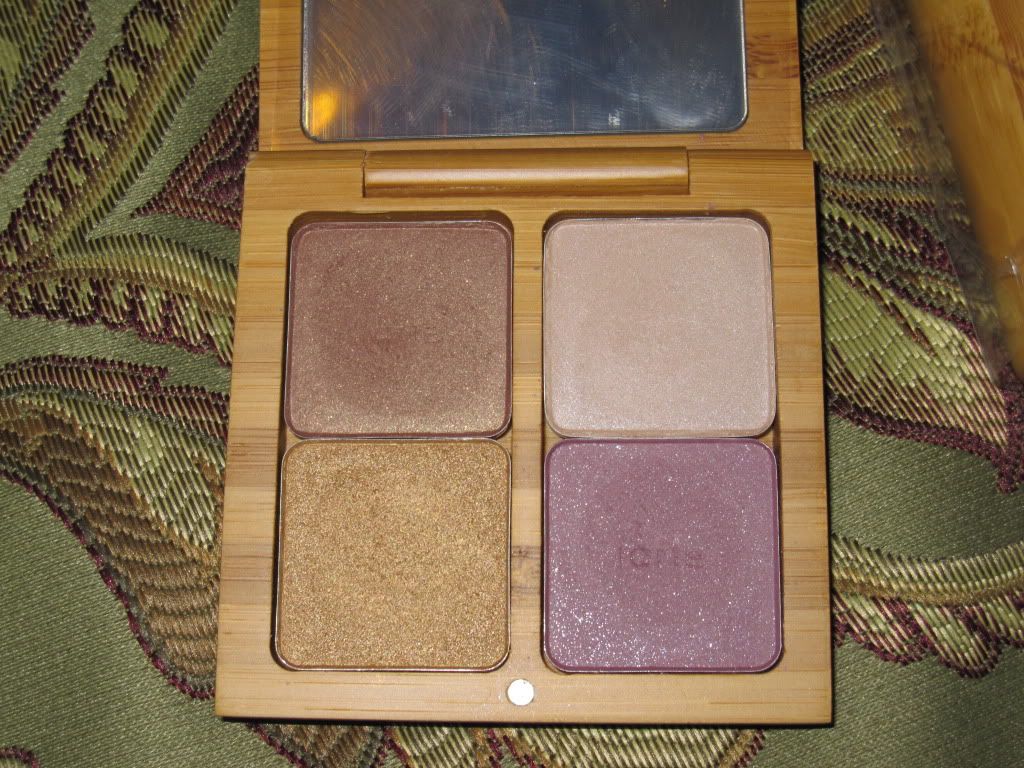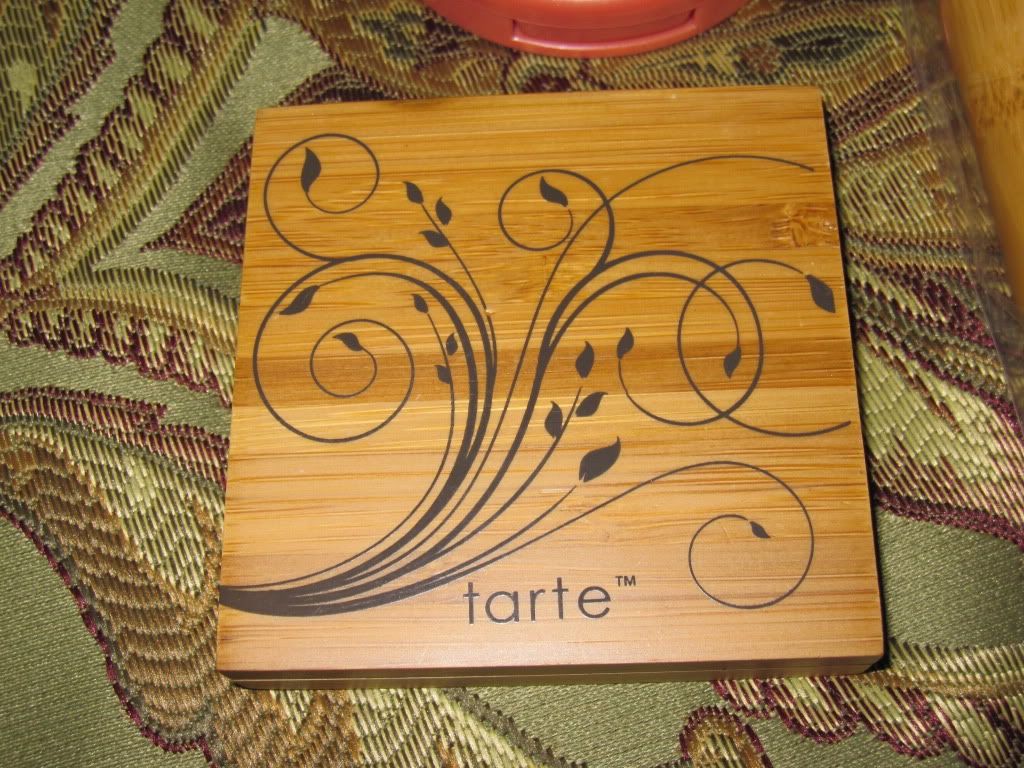 Amazonian Clay Automatic Waterproof Gel Liner in Golden Plum:
This liner is extremely smooth and pigmented. Absolutely no tugging whatsoever. The color is exactly as described, a golden plum shade. It's like Urban Decay 24/7 Liner in 1999 and Rockstar had a baby with some gold dust. I couldn't get this work on my waterlines for some reason. Every once in a while my waterlines just won't line though, so I'm not sure if this was the case or if it was the liner. I'll have to test it again. Aside from that issue, this liner is lovely.
PureOptic- Moisturizing lip Gloss in Golden Pink:
This was the piece I figured would be a throw away for me as I am pretty much a die hard MAC Lipglass/ BE 100% Natural kind of girl. I wanted to use it once so I could photograph the whole look with the kit and I was blown away! This color is unbelievable! Super shiny, golden shimmery, just bitten, juicy amazingness! It has a thicker texture and a peppermint scent/taste. I need a back up... or 4!
Purple Woven Purse/Bag w/ Zipper:
This is actually really cute, fairly roomy & quite nice!
Swatches & Look: Swatches are labeled going clockwise. For the look I used everything from the kit and ONLY from the kit with the exception of Urban Decay Primer Potion Orginal & Benefit Bo-ing Concealer on eyes. I used Shimmering Light Sand on the browbone, Shimmering Bronze on the lid, Shimmering Dark Brown on the outer 1/3 of lid & Shimmering Plum in the Crease. Lined Upper & lower lashlines with Golden Plum, Lights Camera Lashes Mascara. Glisten blush, Golden Pink lipgloss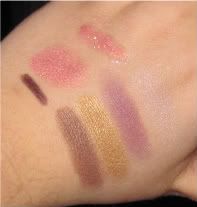 Clockwise: Golden Plum Liner, Glisten Blush, Golden Pink Lipgloss, Shimmering Light Sand, Shimmering Plum, Shimmering Bronze, Shimmering Dark Brown